We will be offering 3 seperate classes on Sunday nights starting on February 9th at 6:30pm. You can only take one class and they will continue for 6-9 weeks. Please sign up below or at the newcomer corner at Church.
Read class descriptions below to find out more information!
---
Financial Peace University: Dane Williams
A message from your Financial Peace University Coordinator – Dane Williams
Are you tired of money stress? Then you're ready to join more than five million people whose lives have been changed by Financial Peace University (FPU)! This nine-lesson course taught by Dave Ramsey, Chris Hogan and Rachel Cruze helps you work a plan to nail a budget, defeat debt, and free yourself from money worries! You'll join a small group for discussions and lessons—all rooted in biblical wisdom and common sense. FPU includes your member workbook and a free year of Financial Peace Membership, with online tools created to support your journey.
Through life-changing videos, online tools and resources, and group accountability, our church members will learn how to create and stick to a budget, save for emergencies, pay off debt, and plan for the future.
Just imagine the impact we could have on the community if we were all debt-free! Marriages and families would be strengthened. People would be freed up to be outrageously generous. This kind of hope will ignite change in our entire community!
Instructions for Signing Up
Please complete the CFPCU Sign Up Form found the on the church's website (chesterfbc.org).
You will then receive an email from our FBC team with a link for you to order your workbook and membership.
As a gesture of good faith, Chester First Baptist Church will reimburse each individual/family their course fees (i.e., $99) on a pro-rated basis depending on your course attendance. For example, if Joe and/or Jane Doe were able to attend 7 of the 9 courses, FBC will reimburse you $77 (i.e., $11 per session x 7 sessions attended).  Due to the cost for this course, FBC would like to promote attendance for each individual/family.  At the end of the course (regardless of how many sessions you are able to attend), you and your family will have the workbook and 1-year membership for Financial Peace.
Lesson Title Date & Time
Baby Step 1 & Budgeting Feb 09, 2020 – 6:30 PM
Baby Step 2 Feb 16, 2020 – 6:30 PM
Baby Step 3 Feb 23, 2020 – 6:30 PM
Baby Steps 4, 5, 6, & 7 Mar 01, 2020 – 6:30 PM
Buyer Beware Mar 08, 2020 – 6:30 PM
The Role of Insurance Mar 15, 2020 – 6:30 PM
Retirement Planning Mar 22, 2020 – 6:30 PM
Real Estate & Mortgages Mar 29, 2020 – 6:30 PM
Outrageous Generosity Apr 05, 2020 – 6:30 PM
*Each lesson is anticipated to last approximately 90 minutes.
Lesson 1: Baby Step 1 & Budgeting
Baby Step 1 is saving $1,000 for your starter emergency fund.
Lesson 2: Baby Step 2
Pay off all the debt (except the house) using the debt snowball.
Lesson 3: Baby Step 3
Save 3-6 months of expenses in a fully funded emergency fund.
Lesson 4: Baby Steps 4, 5, 6 & 7
Invest in retirement, save for college, pay off your home early, build wealth, and give generously.
Lesson 5: Buyer Beware
Take charge of your purchases and learn how to seek contentment.
Lesson 6: The Role of Insurance
The coverage you need (and what you don't) to protect what you love.
Lesson 7: Retirement Planning
Ground rules for investing to retire when and how you want.
Lesson 8: Real Estate & Mortgages
Buy or sell a home the right way – on budget and on your timeline.
Lesson 9: Outrageous Generosity
The only way to true financial peace – live and give like no one else.
---
Connected: Carrie & Chris Tripp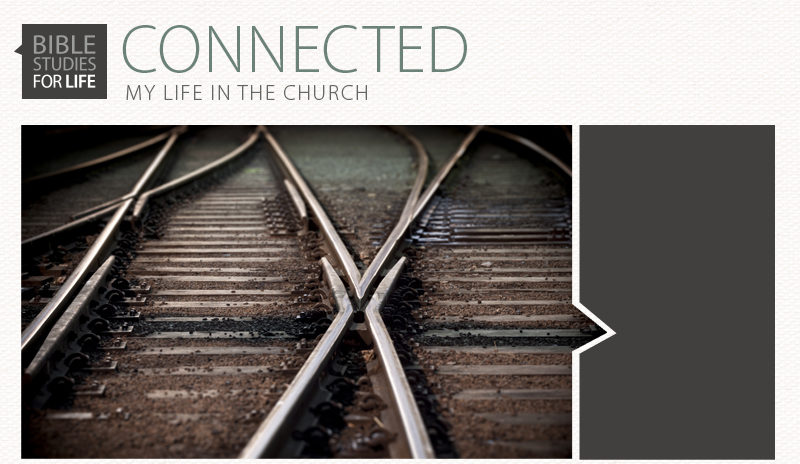 Have you ever wanted to know how you *fit* in the church? What's my role in our church family? How do I find and develop lifelong church friends? How do I become an actively-involved church member?
It's time to get Connected.
Join other church members just like you in this six week Bible study by Thom Rainer designed to get you Connected. We'll connect through the Book of Ephesians to see the true benefits that come from our connections to Christ and His church. Within this study we'll discover six ways that church members are connected: connected in Christ, connected in unity, connected in growth, connected through words, connected in service, and connected through prayer.
It's time to plugin and get Connected.
Each week you will need to read the lesson in the Connected participant book which is less than ten pages per week.
Connected Members will meet for approximately 90 minutes each Sunday evening beginning Sunday, February 9, 2020.
February 9, 2020 Session 1: Connected in Christ 6:30 PM
February 16, 2020 Session 2: Connected in Unity 6:30 PM
February 23, 2020 Session 3: Connected in Growth 6:30 PM
March 1, 2020 Session 4: Connected Through Words 6:30 PM
March 8, 2020 Session 5: Connected in Service 6:30 PM
March 15, 2020 Session 6: Connected Through Prayer 6:30 PM
---
Follow Me, A Call to DIE. A Call to LIVE: Dr. Mike & Pam Fogerson

Class Description:
Follow Me Bible study was created to help you answer the question "What did Jesus really mean when He said, 'Follow Me'"? In the journey to answer that question we'll see that the invitation to follow Him is an invitation to a relationship. It's a relationship marked by self-denial, personal intimacy, single-minded ambition, and ultimate joy. In following Him, you will find the purpose you were created for which is to bring glory to God by sharing the gospel and to make disciples who make disciples. There are indescribable joy to be found, deep satisfaction to be felt, and an eternal purpose to be fulfilled in dying to ourselves and living for Christ. "Follow Me" will help us to live the indescribable in our lives. When Jesus says, "Follow Me," it's not an invitation to say a prayer, it's a summons to lose our lives. He did not invite us to believe a certain set of cold doctrines, or sit in a pew on Sunday mornings. He has called us to lose our lives as we pursue Him. To live as a disciple of Christ is to be transformed from the inside out and empowered to make disciples from every nation, tribe, language, and people. The class "Follow Me" will challenge the traditions of cultural Christianity and reintroduce us to Jesus and His most simple request to His followers: Follow Me. This course will serve to help students live out the "Trying to Live Like Jesus" portion of CFBC's Mission Statement.
Class Expectations:
"Follow Me" will run for a period of six-weeks. Students wanting to get the most out of "Follow Me" may expect to read a few chapters a week from David Platt's book "Follow Me" and to spend about 20-30 minutes daily in the student book over the course of the six-week course. The materials (Paperback copy of "Follow Me" and the Student Book) for "Follow
Me" will be made available at the first session of CFBU on Sunday February 9 at 6:30 PM. Each "Follow Me" session can be expected to last approximately 60-75 minutes.
Also, one of the major expectations of students who register for "Follow Me" is to simply commit to attending all six sessions. It is impossible for Pastor Mike & Mrs. Pam to disciple disciples who are not at class. Each students attendance helps to make the experience of this course much more enriching for individuals and a greater benefit to the Church Body as a whole.
Class Benefits:
Lead yourself and others to reflect on the relationship you have with Jesus
Inspire a passion in your group to fuel your affection for God, to share His love, to spread His glory, to make other disciple makers, and more.
Session Schedule & Lay Out:
Each session will feature a video teaching segment from the author of the material, Dr. David Platt. The video segment will then be proceeded with a time of group discussion and participation. All six sessions will be lead and facilitated by Mike & Pam Fogerson.
February 9: Session One-The Call

(Study materials will be handed out at the first session.)


*Complete Week One in workbook and read chapters 1 & 2 in "Follow Me" before Session Two.
February 16: Session Two-Be Transformed
*Complete Week Two in workbook and read chapters 3 & 4 in "Follow Me" before Session Three.
February 23: Session Three- Delight in God
*Complete Week Three in workbook and read chapter 5 in "Follow Me" before Session Four.
March 1: Session Four-God's Will for Your Life
*Complete Week Four in workbook and read chapter 6 in "Follow Me" before Session Five.
March 8: Session Five-The Church
*Complete Week Five in workbook and read chapter 7 in "Follow Me" before Session Six.
March 15: Session Six-Our Mission
*Complete Week Six and read chapters 8-9 in "Follow Me" to complete the course.